Dear friends, clients and colleagues,
We are proud to announce that Blue Dog Construction and Renovation has received the BEST OF BERKELEY 2013 award in the category of contractors and construction:
BERKELEY August 29, 2013 — Blue Dog Construction & Renovation has been selected for the 2013 Best of Berkeley Award in the Construction Company category by the Berkeley Award Program.
The full press release can be viewed here: http://berkeley.awardprogram2013b.net/PressReleaseub.aspx?cc=DCBJ-PBBS-L6RR
You have all contributed to help us win this award. We are proud and grateful.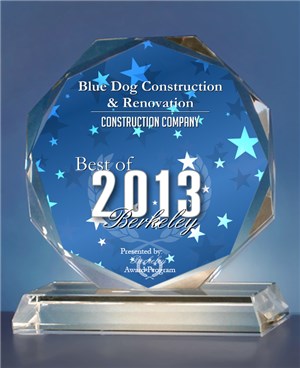 Thank you.