Our Reviews
At Blue Dog Construction & Renovation, we pride ourselves on the rare feat of maintaining great relationships with our past clients. We do this by ensuring our clients are fully satisfied with not just the beautiful outcomes, but also the process of getting there. Our crew is professional, courteous, and attentive to individual clients' needs.
Read what they have to say and then call us at (510) 260-6058 to get started on your own project. You may also fill out our convenient online form and we will respond as soon as possible.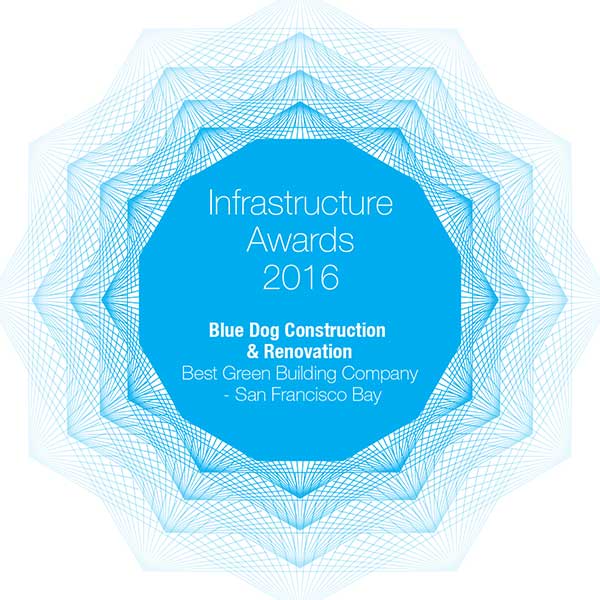 Average Review Rating
Average Rating: 5
Total Reviews: 5
List Of Reviews
By:
Michelle
on
Blue Dog Construction & Renovation
"Andrew Gregor and the Blue Dog Construction team have been nothing but a joy to work with. My TIC partner and I decided to convert our duplex in Oakland into condominiums. As is common when dealing with any city bureaucracy we were stressed, to say the least! Blue Dog came on the scene and created a sense calm in a sea of chaos. They handled everything in a way that was the least intrusive to our lives during the construction process. I highly recommend Andrew for projects big and small. Not only do I refer him to friends, family and colleagues every chance I get, I would hire him again in an instant. You will not be disappointed in the service he provides nor the high-level work he and his crew perform."
By:
Sharon
on
Blue Dog Construction & Renovation
Andrew and his crew just finished a remodel of a small apartment we have in a home in Oakland. He did a wonderful job and we are very pleased with the results. We've remodeled other places in the past and so we have a few other experiences to compare his work to. He is very responsive and returns phone calls timely. Because we are out of the area much of the week that was a huge plus. Also, we really needed someone we could trust and who could be reliable. Again Andrew was excellent on both counts. Also, he called to ask what we preferred whenever there was a choice as to ways to approach a situation. As a result, we got exactly what we wanted. Also, we had a lot of issues with the Oakland planning board. Andrew was able to take care of everything and keep them happy. How awesome is that?! His workmanship is top notch. Really, we can't say enough good things about our experience with Andrew
By:
Benjamin
on
Blue Dog Construction & Renovation
Our interior design firm hired Blue Dog Construction for some complicated cabinetry and customized door installation work in a high end San Francisco home. Our client was extremely happy with the professionalism, high skill level and level of communication that they brought to the project.
By:
Bib and Donna
on
Blue Dog Construction & Renovation
Andrew crafted our ideas and the space available into a beautiful result we had not envisioned. His honest commitment to our happiness at every stage of the process was very reassuring. Everyone he brought into our home was courteous, hardworking and had high standards.
Andrew managed to make a major remodeling process a positive memory in our new home. Rather than horror stories of noise, dirt, lack of privacy, mistakes and head aches, we have warm memories of constructive engagement and relationships. We will long hold Andrew warmly in our hearts and unreservedly recommend him to you.
By:
Jamie
on
Blue Dog Construction & Renovation
A neighbor of ours once told my husband an excellent trait to look for in a contractor, "ask yourself if you want this person in your house, around your family, because that is where they will be." Andrew Gregor, and Blue Dog Construction, fit this bill perfectly, being reliable and personable, as well as doing great work and having integrity as a businessman.
My husband and I hired Blue Dog Construction to fix plumbing and water damage issues discovered under our bathroom. Blue Dog was reliable and reasonably priced, especially considering the excellent quality of the work that they did. Andrew started the job a little early and finished on time to get the work done while we were on vacation, sometimes working until 9 pm at night. This allowed us to be out of town so we did not have to deal with dust and noise while our baby was trying to sleep at home. He communicated well with my sister who was available for him to run through any last minute questions while the work was being done. She found, as we did, that he is an excellent communicator and enjoyable to do business with. He managed to find ways to save us money on materials and the work he did without compromising the quality of the workmanship. We found him to be honest and fair. He did something that many other contractors don't do–he protected us from making expensive mistakes by keeping us informed. Definitely the best contractor we have ever dealt with. All of the sub contractors he worked with were fine choices too, even though sometimes he had to find them last-minute. We will use him again